Solutions That Meet Your Needs
From small offices to large, sprawling facilities, we can provide a wide range of solutions to meet your business or organization's specific needs. From Access Control and through to electromechanical locking solutions, our premier provider, Mul-T-Lock offers scalable, convenient solutions that help protect people, property and assets.
---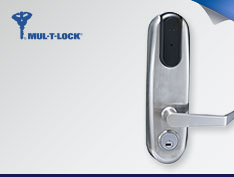 Access Control Solutions
In a commercial environment controlling access is often a first line of defense. At the same time, maintaining operational efficiency is critical for business.  The best access control solutions offer cost-effective product options, user-friendly programming and reporting, and ultimately provide knowledge, convenience and control. Mul-T-Lock's Access Control platforms provide ideal solutions which allow the free movement of authorized individuals while restricting access to others.
Learn More and Buy
---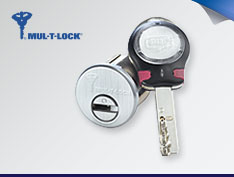 E-Cylinders and Smart Keys
How do you add access control features such as key scheduling and audit trail to openings that are difficult or impossible to wire?  E-Cylinders are wire-free, easy to install solutions that provide key features such as scheduling, audit trail, instant deactivation of lost keys and more.
Mul-T-Lock's CLIQ E-Cylinder & Smart Key platform let you add access control features to any opening.  Plus, because CLIQ E-Cylinders, which utilize both electronic and mechanical locking elements, can integrate into a mechanical key system (whereby Smart keys can operate both E-cylinders and mechanical cylinders) Mul-T-Lock's CLIQ gives you the flexibility to upgrade only the areas where you need more control one door at a time.
Learn More and Buy
---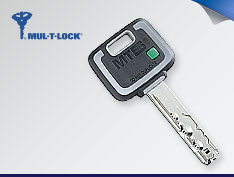 Patented Key Systems
Patented Key Systems provide enhanced key control, especially important when managing large numbers of keys and keeping track of who has access to them.   Did you know that most keys are easy for anyone to duplicate at a corner hardware store or even at kiosk in the mall?  Even the words "Do not Duplicate" are nothing more than a visual deterrent when stamped on non-patented keys.   Unauthorized duplication of keys is a common criminal activity that can lead to easy and undetected intrusion.  Patented key systems like Mul-T-Lock's MT5+ and Interactive+ make unauthorized key duplication nearly impossible.
Learn More and Buy
---